Prayer Ministry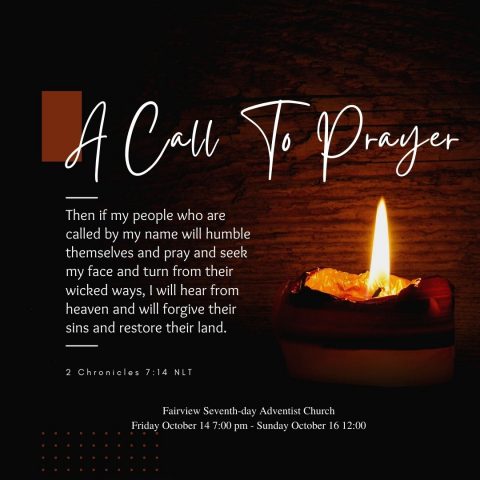 This event will be an opportunity for our three churches to come together in prayer for all the things we sense God inviting us to offer up to Him in prayer. All are invited and encouraged to be present for all the sessions.

The weekend will begin with a presentation  by Pastor David Benjamin, and a session in prayer starting at 7:00 pm on Friday, October 14th at the Fairview Seventh-day Adventist Church. There will be three presentations by Pastor Bill Spangler on Sabbath surrounded by sessions in prayer, and one presentation on Sunday morning, also with a session in prayer.

Topics covered during the weekend:
A Prayer For A New Exodus By Jesus
Would You Argue With God? 
Could This Be The Messiah? 
The Path To Connection With God
Do Whatever He Tells You

There is a great need for us to be united in prayer for our churches, our families, our communities, our witness, and our world. Let's use this opportunity to engage together faithfully and prayerfully.
---
Celebrate Recovery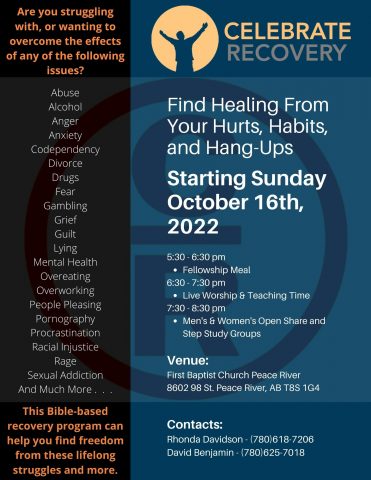 Celebrate Recovery will be resuming weekly meetings on October 16th. We are still looking for people to be involved in a variety of different ways. Here are the areas that we need people for:
Food preparation
Child care and programming (Material Provided)
Music and Worship
Small Group Study Leadership (Material Provided)
Recruiting and Training
Personal Care and Encouraging
Prayer Warriors
If you have a desire to help in any of these areas or know others who do, please contact Pastor David Benjamin @ (780)625-7018 or dbenjamin@albertaadventist.ca or Rhonda Davidson @ (780)618-7206