Welcome...
to the Peace River SDA Church in Peace River, AB.  We are a Christian community and would love to have you join our family. To learn more about what we believe you can visit our About Us page. Please join us for Bible study, worship, and prayer.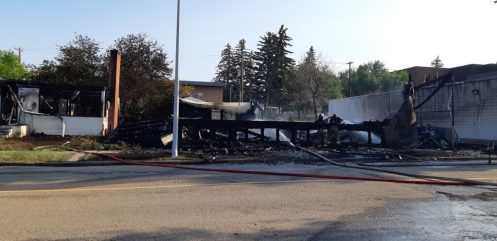 Church Fire
We are sad to announce that the Peace River Seventh-day Adventist church burned down July 3, 2019 at 3:00am. The cause is unknown. 

We are grieved that the town of Peace River lost part of its history in this historical building and a home for the Adventist congregation. 

We know from the Bible that nothing happens without God knowing and allowing it to happen (Matt. 10:30) and that all things work together for good to those who love Him (Rom 8:28). 

We are praying and waiting to see how our loving Heavenly Father will lead us next.
Starting from, August 10 we are meeting in Peace River Alliance Church located 8105 106 Ave, Peace River. See map below.
Everyone is welcome!
Services begin every Saturday at 10:00 AM
Charitable donations for restoration of the church will be gratefully accepted as we sort through this tragedy.  The Alberta Conference, our parent organization, will help process donations made to the Peace River Seventh-day Adventist Church in response to the fire.  To donate click here: